In the options area (left column), you can see who is online at the same time.




In the settings you can determine whether you want to receive messages from other users or not. The word "ping" will be displayed next to the name of online users who have agreed to receive ping messages.


In order to send a ping message, proceed as follows:

(1) Click on "ping" next to the respective username.

(2) A pop-up window opens. Type in your message (max. 1000 characters).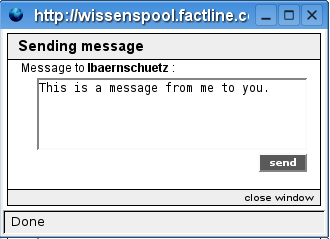 (3) Click on "send". The message appears on the screen of the receiver as soon as he/she loads a new page of the platform.




(4) In order to view the whole message, click on more.




(5) If you want to reply to a ping message, click on "reply".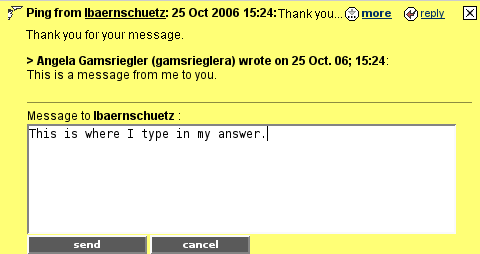 (6) Type in your answer in the white input field and click on "send".

(7) Ping messages which have already been answered are displayed in grey color.



(8) If you click on the little "x" in the upper right hand corner, you can remove the message from your screen.