(1) You can customize your notification settings by following one of these steps:
(a) click on the "Settings" link which is usually positioned next to the logout link in the header
in the newly opened overview page of your user's profile you can see a short information about the currently set notifications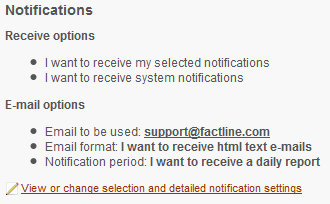 in order to change them click on the link "View or change selection and detailed notification settings"
(b) click on "configure notifications" in the settings box in the left frame (options area)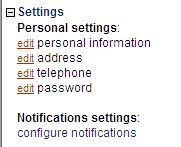 (2) In the following interface you have the possibility to configure the notifications: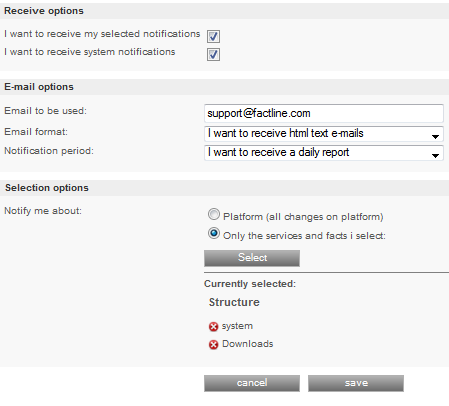 (a) In "Receive options" you can choose by selecting one or all of the check boxes:
to receive notifications configured only by yourself
to receive the system notifications (configured by the padmin of the platform)
(b) "Email options":
"Email to be used" - type your email address here
"Email format" - choose to receive emails with plain or html text
"Notification period"- choose to receive daily, weekly or monthly report
(c) "Selection options" - If you have chosen in step (a) the first option - to receive notifications configured only by yourself, you'll see an additional interface where you can select what do you want to be notified for:
platform changes - you'll receive a notification about all changes on the platform
Only services and facts i select - here you can select to be informed only about separate folders and/or services.
Also you can see for which services, folders or dialogs you have already chosen to be notified about.

You can remove one or more of them by clicking on the "delete" button next to each one. If you want to select more services, folders and dialogs to be notified about , click on "Select". The following interface appears: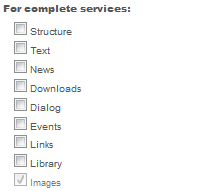 Before leaving the page click on "save".

If you choose to be notified for a folder which has subfolders, you'll also receive notifications about changes in the
subfolders.