In order to create a question, proceed as follows:

(1) Choose where to create the question:
(a) Open a folder.
Click on "add" next to the folder title and then choose the option

or
(b) Open the service-filing "Questions and Answers". In order to do so, choose "Questions and Answers" from the drop-down menu in the options area (left column).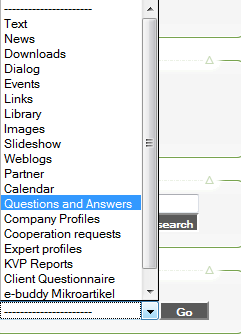 Then click on the button

.
(2) Insert your question in the field "Quesiton":

(3) Assign permissions if needed.
(4) Choose a priority for your question from the drop-down menu:

(5) Enter a timeframe for your question -a date till which the user will be able to answer.

To choose easily a date you can click on the button on the right side of the form for the timeframe and a calendar will appear: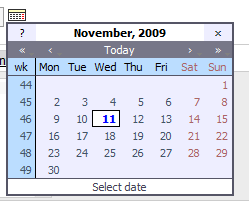 (6) Choose the categories which the question belongs to:
(a) Click on a tab from the interface
(b) Then choose from the list with the categories the desired one

(c) The selected categories will appear bellow. If you want, you can easily remove them from the button "delete" next to each one

(7) Click on "preview".

(8) If you want to change anything, click on "edit". If you are satisfied with the preview, click on "publish".