If you want to search Q&A, which include a specific word or Q&A placed in a certain category, proceed as follows:
(1) Go to the Service Filling "Question & Answers".
(2) Click on the

button.
(3) An interface opens with the following search options: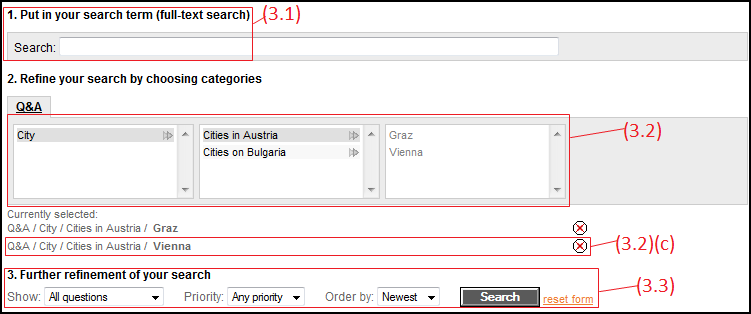 (3.1) a form, where you can type a term by which the Q&A will be searched
(3.2) interface with categories in which you want to search questions
(a) click on a tab from the interface
(b) then choose from the list with the categories the desired one
(c) the selected categories will appear bellow. You can easily remove them from the button "delete" next to each one
(3.3) a filter for further refinement of the search
(4) Click on the

button to see the list of results, which will appear bellow.
You can use one of the options (3.1) and (3.2), or both of them for your search. Option (3.3) - the filter, can be used for further refinement of the already performed search. If you want to make a new search, click on "reset form".