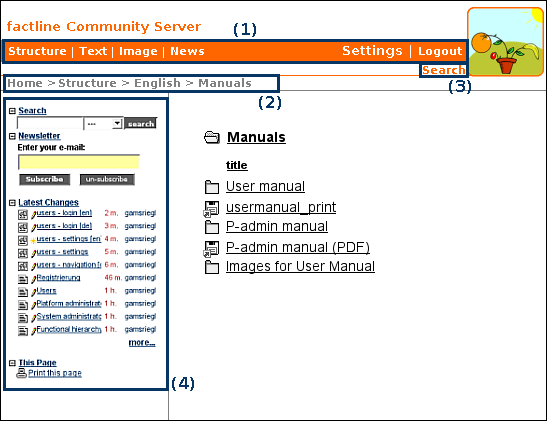 (1) main menu
In the header of your platform you will find the main menu. In the standard solution provided by us, "Structure" is on the left side, followed by buttons for other services your platform offers. On the right side, you see the users online, settings and login/logout buttons.

The menu buttons for Structure and Services can be replaced with other buttons according to your wishes. In this case, the individual services are accessible via a drop-down menu in the left column. There you will also find a link for "Structure".


(2) pathline - vertical navigation
Below the header of your platform, you will see a pathline that shows you which area of your platform you are currently in ("Home > Structure > English > Manuals"). The titles displayed in the pathline, are shorter than the original titles, for space saving reasons. If you want to jump to a higher level in the hierarchy, simply click on the respective designation in the pathline (e.g. "English").


(3) advanced search
On the right side, between header and pathline, is the button "Factlist & search". You can search (text-based) content on the platform for certain words, using the given options (fact type, publisher etc.). If you press the "Search"-Button without making any choice, ALL facts on the platform will be listed.
For detailed description of the functionalities of "Factlist & Seach" see chapter Factlist & search,


(4) Left Box (options area)
The Left Box (options area) consists of numerous boxes. These boxes contain information on facts displayed in the main frame. Moreover, you will find all edit-options there.

Platform administrators decide which boxes are visible in the options area. They can determine that some boxes are only visible to certain groups.

Further information on the options area is available in the chapter "Left Frame (Options Area) - boxes".

(5) previous | next fact - horizontal navigation:
If required, users can activate a horizontal navigation. By doing so, users can directly jump from one fact to the next within a folder. Subsequently, facts do not need to be opened and closed individually. If the horizontal navigation is activated, ther are "previous" and "next" arrows above the fact title. You can activate the horizontal navigation while creating or editing a folder.