The new temporary read permission functionality is an extention to the existing Send to a friend function. It allows facts to be sent to non- users.
When in folder`s list view, there is the button "sent to friend" at the bottom of the facts` list. To activate it you should select one or more facts by checking the checkbox at the end of the corresponing lines in the list.

When you click the button, a new dialog box with the extended Send to a friend interface will open: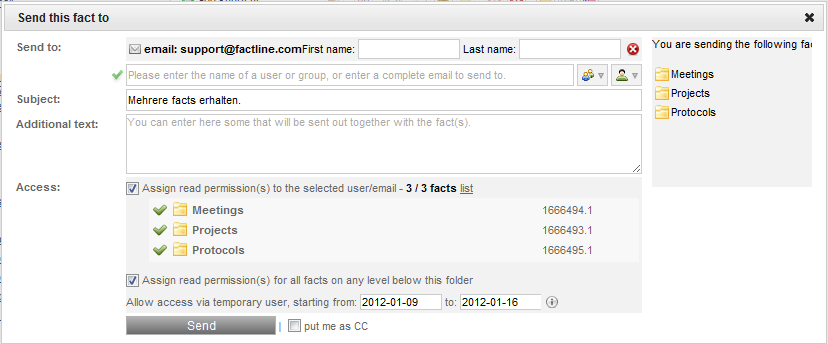 This interface can be accessed also from the link "Send this fact to a friend" below each fact.
The new interface has the additional option to send links to facts to unregistered users who receive a temporary read permission. Also from the list below u can select for which facts/folders you want to assign read permissions. Except that if folders are selected, u can assign read permissions to their content by selecting the option "Assign read permission(s)" for all facts on any level below this folder.
To complete the form successfully it is required to select the end date for validity.

To enable this function you should check "Allow extending permissions" and "Show button in lists" for the button in the Send to a friend interface Section in padmin.