There are two different types of lists in the service structure:
standard-list:
simple list with title and metadata ( example)


thumbnail-list:
list with image preview for facts of the services "image" and "slideshow" ( example)
If you want to allow users to choose between standard and thumbnail list, you need to enable this option. By doing so, users are provided with a drop-down menu as soon as they create a folder.

In order to enable the thumbnail list option, proceed as follows:

|1| Choose "Interface from the main menu.

|2| Click on the "modify"-button in the row "Define list columns".

|3| Click on the "list"-button in the row "Structure".

|4| Click in the checkbox in the row "Thumbnail list".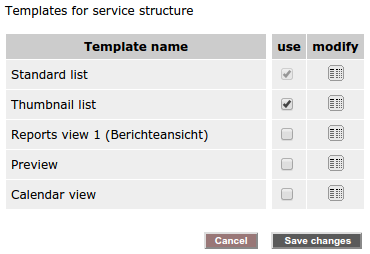 |5| Finally, click on "Save changes".