If you want to embed an image anywhere on your factline platform, you need to upload it first.


In order to upload an image, you need to create a fact of the type "Image":

(1) (a) Open a folder.

or

(b) Choose "Images" from the box "Services" in the options area (left column).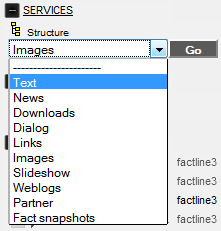 (2) (a) Click on "add" next to the folder title.

or

(b) Click on "add" at the top of the list. Alternatively, you can click on "add image" in the options
area (left column).

(3) Depending on which alternative you chose in step 2, proceed as follows:

(a) Choose "image" from the list.

or

(b) Continue with step 4.


(4) Now, you see an .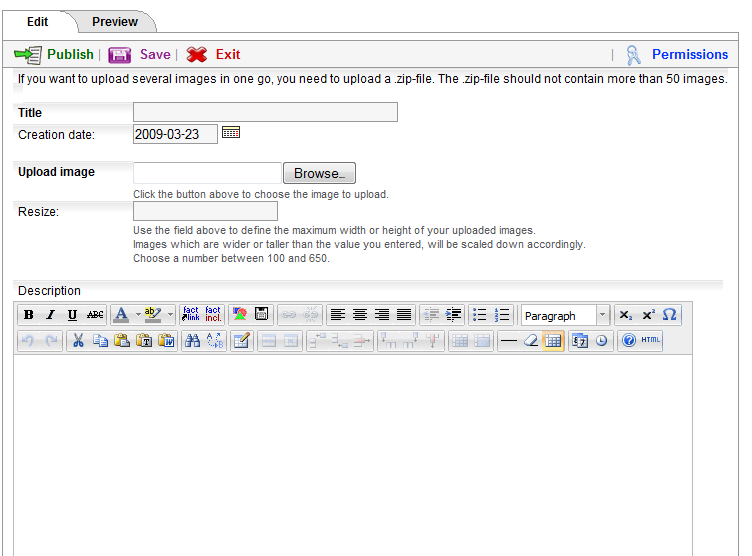 (5) Insert a title.

(6) Next to the field "File Data", click on the "Browse"-button. The standard Windows-Explorer window will open. Navigate to the folder where your image is located. Click on the title of the file and then on "open".




Upload several images at once - A .zip-file allows you to upload several images at once. The system automatically creates one fact per image. If you fill in the title field, each picture has the same title and a consequent number. You can also leave the title field blank and then the images will have their original names as in the zip file. After the upload has been completed, you can make adaptions for each image.


(7) The field "Resize" allows you to specify either width or height of the picture. Pictures which exceed the maximum in width or height will be resized automatically during upload. For best possible resolution, we recommend to edit the picture with the help of a suitable software application (e.g. Photoshop).




Picture size - We recommend a maximum size of 600 px.


(8) If desired, enter a description.

(9) Click on "next >>".

(10) Set the permissions and click on "Preview".

(11) Finally, click on "publish".



return to: