It is possible to copy content into another folder. This function is called "clone". Cloning creates a copy of the last version of an existing fact. This means, a new fact is created during the cloning process.

Please note...
Topics and postings in a forum are not cloned.
Comments on a fact are not cloned.
Cloning shortcuts to folders, services and comments, will not create a new fact.
Facts which link to each other are cloned in a way that the copies link to each other as well.
After the cloning process has been completed, the person doing the cloning is the publisher. Thus, he/she is automatically permitted to edit and delete copies.


Procedure:

(1) Open the folder in which the facts you want to clone are located.

(2) Choose the respective facts, by clicking in the checkboxes on the right side.




No checkboxes? The list is probably sorted by a column. Click on the title of the folder to restore the original order. If there are still no checkboxes, you have no edit permissions for the folder.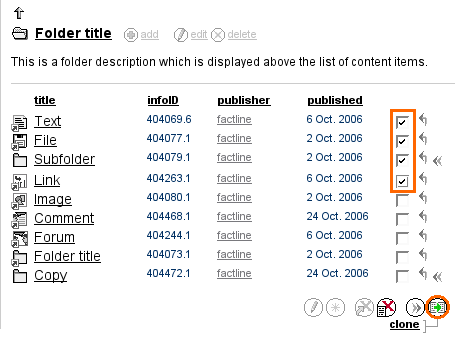 (3) Now, click on "clone" at the bottom of the list of folder contents.




If you do not see the "clone"-button, you are not permitted to copy content.


(4) After you have clicked on "clone", a new page opens.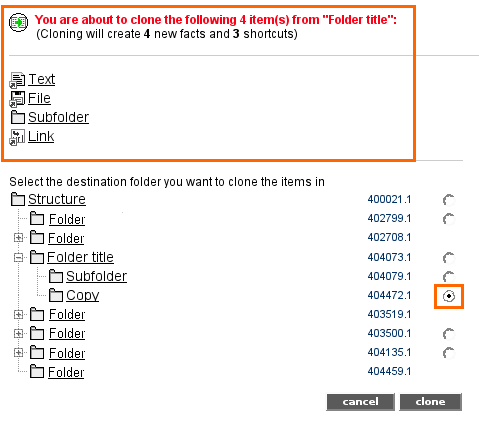 (5) At the top, you see an overview of the content you are about to copy. Below, the first level of the folder hierarchy is displayed. In order to display subfolders, click on the "+" next to the respective folder.

(6) Decide into which folder you want to insert the cloned content by clicking in a radio button. Radio buttons are only displayed next to folders for which you are work permitted (see chapter "Assign permissions to groups").

(7) Finally, click on "clone".

(8) The content is now being copied. Depending on how many facts you chose for cloning, this process may take a while. As soon has the copies have been created, you are directed to the respective folder.