Multiple Assignment


The Multiple Assignment enables the publisher to select secondary places, represented as folders, and to categorize the information(fact) during the publishing process. Thus you create easily and quickly a well structured information through a user-friendly interface. When publishing a fact the user can select from a predefined set of categories, displayed as a drop down. This way the published fact will have shortcuts in each one of the folders, the user has selected as categories. Afterwards this can be used to filter the content in differernt categories.
The "Multiple Assignment"(Mehrfachzuordnung) section of the In-Platform Admin provides you with the following options:

|1| current multiple assignment options sets:

Provides you with a list of active "Multiple Assignment"-Sets on the platform.

Click on a set to view the Steps attached to it.

|2| add a new options set:

Here you can add new "Multiple Assignment"-Sets for:

(a) the entire platform

(b) a specific folder
|1| current multiple assignment options sets:
This List provides you with an overview over all the Multiple Assignment sets already active on your Platform.
If you want to edit a existing options-set just click on the "Multiple Assignment"-Set you want to edit.
This next few step will show you, how to create new Steps for a "Multiple Assignment"-Set:

Click on "add new step" to open the Form for adding a new Step: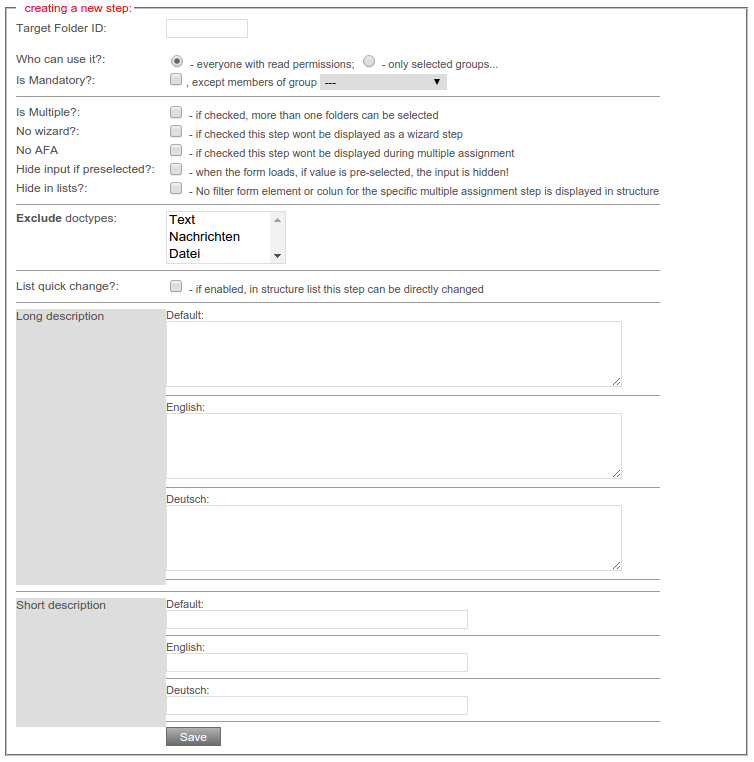 Target Folder ID:

The factID of the folder, that is supposed to be used as structure for this Step.
The Title of the Folder will be the Name of the Filter, the sub-folders will act as the filter-values.

 

Who can use it?:

The two Radio-Buttons let you choose if this Step should be usable by:

everyone that has read permissions for the target folder
only specific groups (overview of all groups on the platform will be shown, to select the desired groups)

Is Mandatory?:
Aktivate the checkbox, to make this necessary; this means, that publishing is not possible if nothing is chosen for this Step.

You can also chose a Group for which this rule does not bind
Is Multiple?:
activate possibility to choose more then one entries for this step
No Wizard?:
i

f checked this step wont be displayed as a wizard step

No AFA:
if this option is checked, the Multiple Assignment will be suppressed during Uploads with the Automatic File Assignment
Hide input if preselected?:
check to activate that, if a value is pre-selected, when the form is loading, the input is hidden
Hide in lists?:
if checked, this option hides the filter in lists
Exclude doctypes:
define what facttypes should be excluded from this Multiple Assignment step.
List quick change?:

if enabled, in structure list this step can be directly changed
|2| add a new options set:
Here you can choose to either:

(a) create a new global multiple assignment set


There can be only one active global multiple assignment at a time - In the case of a global Multiple Assigment set being already active, the option would not be availible!
or
(b) create a Multiple Assignment set for a single folder.
Just enter the ID of the folder, that you wish to be the trigger for the Multiple Assignment into the Text-Field. From now on, every time a fact is created inside this said folder, the multiple assignment will be activated.
Combinined delegate permissions groups:
Explanation by example:
If there are two groups of folders.
The first one (Group A = 'n') containing two folders and the second one (Group B = 'm') containing also two folders.
When these two groups are added to a combined delegate permissions group, the system will automatically create 'n x m' Virtual Groups.
The created Virtual Groups are a concrete form of the folders Delegate permissions for the content of a folder.
In this case, these would be:
2 x 2 = 4 Virtual Groups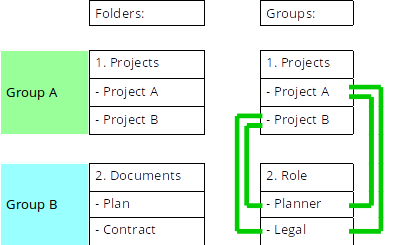 In this case the created Virtual Groups would be:
Project A - Planner
Project A - Legal
Project B - Planner
Project B - Legal
So, this way, a fact, that is published via Multiple Assignment with a Project and Document-Type assigned, will automatically be published with the correct Virtual Group.
The Form:

|1| current multiple assignment options sets:

Provides you with a list of active "Combined Delegate permission"-Groups on the platform.

Click on a set to view the Steps attached to it.

|2| add a new group:

create a new Combined Delegate permission"-Group

  

| | |
| --- | --- |
| Name of the Group: | Enter the name you want this Group to have. |
| Folders in the group: | choose the folders, which contain the delegate permissions, that should be used by this group. you can choose multiple folders. |
| Options: | if this checkbox is activated, changes that are made to this group, in this form will automatically be appiled to the permissions. |