Combinined delegate permissions groups:
Explanation by example:
If there are two groups of folders.
The first one (Group A = 'n') containing two folders and the second one (Group B = 'm') containing also two folders.
When these two groups are added to a combined delegate permissions group, the system will automatically create 'n x m' Virtual Groups.
The created Virtual Groups are a concrete form of the folders Delegate permissions for the content of a folder.
In this case, these would be:
2 x 2 = 4 Virtual Groups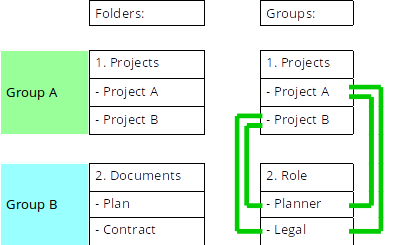 In this case the created Virtual Groups would be:
Project A - Planner
Project A - Legal
Project B - Planner
Project B - Legal
So, this way, a fact, that is published via Multiple Assignment with a Project and Document-Type assigned, will automatically be published with the correct Virtual Group.