to include a videofile, say for example 140516_Dokspace_1080p.mp4, embeded with a player for direct playback.
you need the download-link of said download-fact.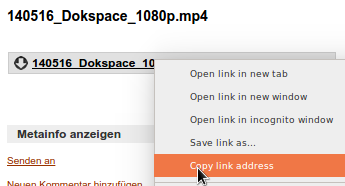 then, edit the fact you want to include the audiofile with controls in, and in HTML-Mode add:
<video preload="auto" controls="controls" width="720" height="297">

 <source src="

http://doku.factlink.net/fsDownload/140516_Dokspace_1080p.mp4?v=1&forumid=101&id=5938925

&directdownload=1

" type="video/mp4" />

 <p>To view this video please enable JavaScript, and consider upgrading to a web browser that <a href="http://videojs.com/html5-video-support/" target="_blank" class="link">supports HTML5 video</a></p>

 </video>
where in src=" " you paste the download-link and add "&directdownload=1" like in the example above
for autoplay of the video just add 
autoplay="autoplay"
to the initial
<video>
tag
for best results make sure you convert the videos to "H.264 + MP3" (MP4) before uploading
The endresult should look like this: