In the service repositories and the structure, content is displayed in lists. You can adapt the organisation of these lists according to your wishes.

Procedure:
|1| Choose "Interface" from the main menu by clicking on it.

|2| Click on the "modify"-button in the row "Define list columns".
|3| Click on button "list" next to "Structure".
|4| There are two options: "Standart list" or "Thumbnail list". Choose "Standart list".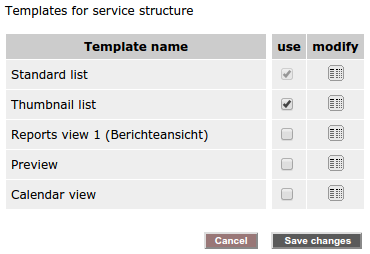 |5| The following table shows you all data available for display: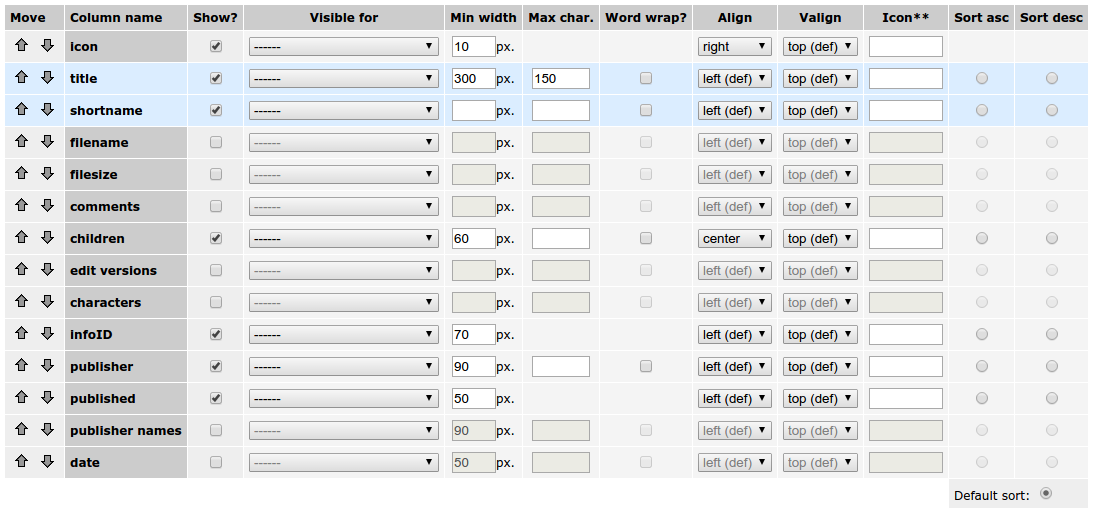 |6| Decide which data (e.g. icon, title, infoID,...) should be displayed in the service list by clicking in the checkboxes in the column "Show?" thus the facts will be sorted by icon, title, shortname, filename, filesize, comments, children - the number of facts in a folder, number of edit versions, characters, infoID, publisher, and date published.
You can also specify the minimum width and the maximum number of characters of the column.
If you set the Word wrap option, when the property of the column has a longer name, it will continue on a new line when a line is full.
|7| You can choose an icon (from a platform image) as a column heading if you want - just paste the infoID of the image in section Icon. The image that you want to put as an icon first have to be uploaded on the platform.